Stable Partemple's Urban Pottage
number two in a series of bulb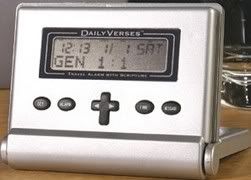 Given that it's all too easy to sleep in, thank Mary, Joseph and all the sticky mongeese that clever people still exist to invent helpful, educational sleep-disturbation technology. This little bastard is the
Daily Verses Alarm Clock
, which not only stands proud on your bedside table in its silver plastic casing (with integral travel stand & cover, for all your pilgrimages) but can regale you with any of 365 inspirational and touching scriptures from the Bible (not named Time Magazine's nonfiction
book of the decade, 1969
).
I think this is the beginning of a trend. In fact, I predict that the number one toy under the 2006 Christmas tree will be the Official Peter Falk "Columbo" Daily
Just One More Thing Sir
Alarm Clock. One press of Peter's cigar-pierced gurning face and you can hear any of 365 motivational and arousing catch-phrases from the successful television show. Married with three beautiful children? Why not buy five and take advantage of generous bulk-buying options (see in-store for details).
Celebrity endorsement is big money - just ask Anne Frank - and you can be sure that where icons go the general public won't be far behind. Watch out for my very own Stable Partemple
Nice Centenary
Commemorative stamp, released this Fall. I've a strong and warming feeling that there'll be plenty of people willing to turn me over and give me a licking every-time they want to send a letter.
Stable Partemple is a futurology consultant at the Institute of Modern Now, London. He has spoken at a broad range of keynotes, and chairs the focus group Communauté Metro Holistique.