Beanz Meanz Familiez
Freshly gurgling from the news that
Heinz
are
preparing to launch
pre-packed
Beans on in Toast
on an unsuspecting,
undesiring
public, those wholesome souls at
The Guardian
have
whored their dictaphone
around various head-chefs for a "who cares" soundbite. The
Dante's Handcart
award for
Greatest Over-Reaching-Reaction on the Part of a So-Called Professional
goes to the dismayingly named
Skye Gyngell
of the Petersham Nurseries Café. Skye,
pictured
just over there (gurning like a freshly-
gutted
salmon), came out with this
juicy
little nugget: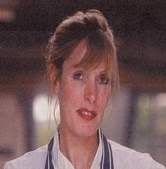 "I find this sort of thing awful - dumbing down food to that level. I think it's so disconnecting. It disconnects families. It disconnects communities. Everything now is so fast - we all demand things instantly, from instant internet access to instant food. Things like this have far-reaching effects. When everybody has to have everything instantly, where is the family? Where is sitting down and talking to each other? Where is preparing food together - even washing up together?"
The winner of Time Out London's
Best Alfresco Dining
2005 obviously hasn't taken a
look
at pages 475-476 of the Spring/Summer
Argos
catalogue, else she would've seen the
latest
in
four-slot toasters
. These
beauties
, each glistening with variable
browning
controls and, in many cases, real
chrome
highlights, allow a family of
four
(or five if one family member is a staunch
anorexic
) to gather together and
communally
prepare
delicious Heinz snacks.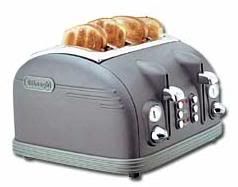 It's tricksy to discover the
average
length of the modern "family meal" but few of you
bitches
would deny, I'd
wager
, that in today's hectic world such moments of
togetherness
are shrinking as rapidly as an elderly man's
withered
genitals. Is it not a
super
idea to fast-stream group meal preparation, leaving more time to
discuss
text messaging, pre-teen
pregnancy
and the rising number of homosexual
death
squads roaming the streets? I think it sodding is.